With over 10 years of experience as an entrepreneur in creative industries, architect Armina Popeanu is launching an educational product for architects, designers, and other professionals in creative industries who want to turn their activities into successful businesses. The entrepreneur aims to reach over 10,000 professionals in creative industries by the end of the year through the aBC (a Business of Creativity) ecosystem, providing them with the necessary tools to start and maintain a profitable entrepreneurial project.
Launched with the help of a European grant worth 60,000 euros, aBC – a Business of Creativity is an entrepreneurial education platform that includes monthly meetings between creative individuals and mentors, dedicated workshops, one-on-one mentoring sessions, and a podcast featuring invited experts and successful entrepreneurs. The platform aims to provide educational resources to professionals in creative fields such as architecture and interior design, who are either starting or have recently launched a business.
The current formal education offers limited resources for creative industry professionals when it comes to starting a business, and this is the biggest barrier for entrepreneurs in this field. Entrepreneurial education is missing, and from our monthly meetings, which have already been attended by over 1,000 people, we have concluded that 80% of them start a business without a plan. As a result, terms like scaling, profit, and portfolio diversification remain unknown to many of them, and the business is likely to remain small, even though the relevant market is expanding, or the entrepreneur may even give up on the idea of working independently, explains architect Armina Popeanu, the founder of the a Business of Creativity platform.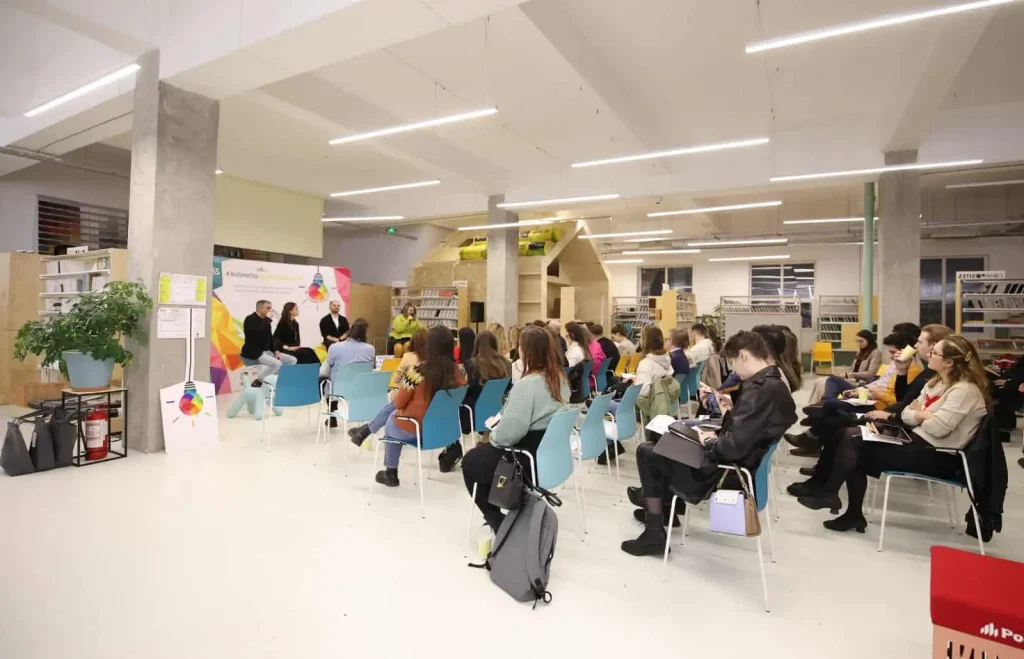 The creative professional's attendance: 30% architects, 50% designers, and 20% other entrepreneurs
In this context, after more than a year of monthly meetings with mentors, entrepreneurs, business people, and professionals from creative industries, aBC is launching a new pillar of the entrepreneurial education ecosystem, a series of workshops dedicated to business architecture.
Practically, the new type of meeting is derived from the monthly ones, with an average attendance of 120 people, including 30% architects, 50% designers, and 20% entrepreneurs from other creative fields. Business Model Makeover is a small-scale meeting where we will actively work on shaping a business plan with all the necessary elements, including scalability and/or funding opportunities. We address those who have been in a creative business for 1-2 years and provide them with the necessary tools to truly turn their passion into a profitable business, said Armina Popeanu.
How to reach a turnover of 1 million euros
This new product from aBC joins the monthly meetings and the podcast launched in June, aBC Podcast, where experts, businesspeople from creative industries, business mentors, and experts share their experiences with those who want to embark on the path of entrepreneurship. So far, among those who have shared their business experiences are Dragoș Motica, an internationally awarded architect for product design, Radu Călin and Sebastian Mândroiu, who have a turnover of 1 million euros with their architecture studio Pick Two Studio.
Upcoming episodes will feature designers who have expanded into foreign markets, such as Flavia Scânteianu and Andreea Batroș – Dare2Rug, Radu Ionescu, CEO of Cumulus, an architecture firm with a turnover of nearly 2 million euros in 2022, or Oana Velcu Laitinen, author of the book "How to Develop Your Creative Identity at Work: Integrating Personal Creativity Within Your Professional Role."
National expansion, reaching 10,000 entrepreneurs
For the current year, aBC aims to reach over 10,000 entrepreneurs in creative industries. Thus, starting this autumn, aBC experts, together with architect Armina Popeanu, will expand physical meetings nationwide, starting with Iași, Cluj-Napoca, Brașov, Sibiu, and Timișoara.
Although we are still a developing market in architecture, design, and other creative industries, the good news is that there are increasingly more programs supporting entrepreneurial activities in general, and creative industries are privileged throughout Europe – from government or European funding to banking or private ones. All we must do is learn how to truly do business and meet the requirements of this status, concluded architect Armina Popeanu.
About Armina Popeanu
Architect Armina Popeanu began her entrepreneurial career 10 years ago when she sold her motorcycle to buy the first bags with which she founded Lyria – Your Painted Story, a unique slow fashion brand on the Romanian market. In 2020, she returned to the architecture profession and founded the AArchitects interior design studio.
aBC – a Business of Creativity is her third entrepreneurial project, and she is pursuing a Ph.D. in Business Architecture at the Ion Mincu University of Architecture in Bucharest, where she is creating a business model for professionals in creative fields.
She has been mentoring at Startarium for over 4 years, and her professional experience is shared in the classroom at the Ion Mincu University of Architecture, as well as in primary and secondary education, where she volunteers in the De-A Arhitectura project.
About a Business of Creativity
aBC – a Business of Creativity is an integrated platform for entrepreneurial education in creative fields, aiming to provide information, support, programs, and opportunities for architects, designers, and other entrepreneurs in creative industries who need access to non-formal entrepreneurial education.
The aBC ecosystem includes monthly meetings with professionals from creative industries, the aBC podcast, workshops, and one-on-one mentoring sessions.